It was plausibly the music show of the year, and perhaps one for posterity…the Sheebah Karungi vs. Cindy Sanyu battle lived up to every bit of expectation.
Following weeks of hype, crossfire commentary, and even a fully-fledged televised debate; the two ladies knew they had to give their all at show time at the Kololo Independence Grounds, and that they did.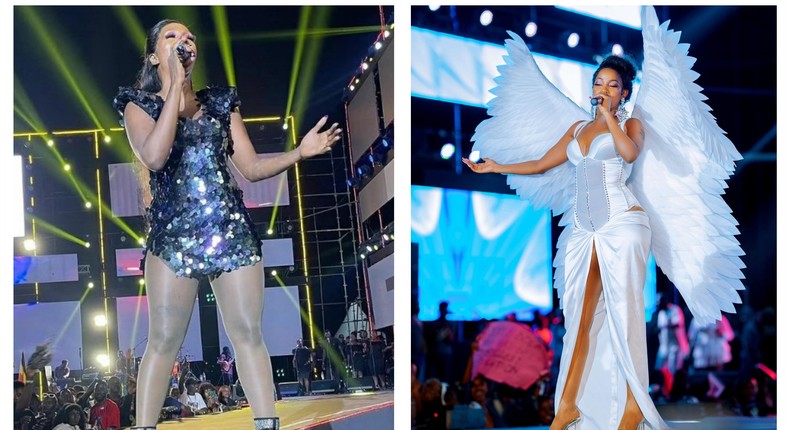 Sheebah was up first, and she had quite the entry. Carried on stage by shirtless men, and dressed in a sparkling white giant coat along with a big entourage of dancers, she got the night going with her 2016 hit 'Kisasi Kimu.'
Cindy went with a more mundane entry with her song 'Party' but was to go on and carry the night as the show climax seemed to suggest.
Even the hundreds of thousands that tuned in on television and online were in agreement as they took to social media through the night to crown the former Blu*3 as the undisputed champion.
"Cindy is better than Tiwa Savage and Rihanna combined," suggested Ugandan writer Kakwenza Rukirabasaija, while Sanyuka TV presenter Anatalia Ozzy shared, "I hate taking sides by Cindy (is fire)."
Sheila Gashumba said it was time for Cindy to reunite with her former Blu*3 bandmates, while comedian Maulana issued an "apology to all Nokia users"
Even Sheebah during her performance appeared to embrace the "second best" moniker, telling revelers; "I would rather be a hustler than be talented with no achievements."
Several online polls in the aftermath of the show also put Cindy ahead including our own which had her at 65%.
Most of the industry's top shots such as Jose Chameleone, Mesach Semakula, and others resisted taking sides, while others such as Kampala Lord Mayor Erias Lukwago and Deputy Speaker of Parliament Thomas Tayebwa declared it a draw.
Overall, it goes without saying, that the battle was a huge win for both artists and for the country's music industry.
In fact it was reported last tonight that the two artists have already been booked for big shows in Dubai and London.