Police in South Africa have launched a manhunt for a Ugandan national who allegedly set on fire a car dealership belonging to his father, following a fight over ownership of the property.
The fire reportedly destroyed up to 9 cars and spare parts worth millions in South African Rands. Some of the burnt-down cars belonged to Nigerian businessmen, one of them named Mr. Owolabi Gbadamosi who was subletting the property.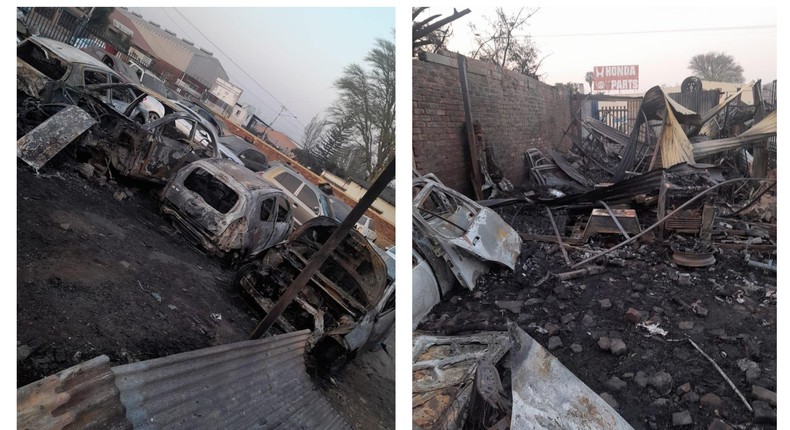 Police were yet to release the names and other details about the suspect who was still on the run.
According to preliminary investigations, the suspect was angered when his father gave him the business located on Vom Hagen Street in Pretoria and then took it back from him.
In a statement put out by the Nigerian Union South Africa (NUSA), it was revealed that the father had operated this business for about 7 years.
Then sometime last year, he established the same type of business elsewhere in Atteridgeville, Pretoria, and handed over the Vom Hagen business to his son.
According to NUSA, a misunderstanding broke out when the father realized that his son had withdrawn R12,000 (about Shs 2.3 million) from his bank account without his knowledge.
In the quarrel that ensued, the father decided to reclaim the business from his son, taking advantage of possessing all the legal documents related to the business.
The suspect, however, refused to vacate the business forcing his father to secure a court order restricting him from his and the surrounding businesses.
The NUSA statement further revealed that a few days prior to the arson, the two had a bitter fight and that the suspect nearly stabbed his father with a knife.
"When the business location was set ablaze, the father could be heard continuously lamenting that the fire-raising was perpetrated by his son. It appears the major target of the arsonist was the portion of his father's business on the property, nevertheless, it escalated to Mr. Owolabi and Co's businesses," the statement reads in part.
The people who lost their property had since appealed to the South African Government to compensate them for their losses.