Locals in Mukono district last weekend lined the streets to catch a glimpse of what they called a "historic occasion," as one of their own wedded seven wives at a go.
Hajj Habib Nsikonnene yesterday, stunned the residents as he exchanged marital vows with his seven wives, before holding a massive reception attended by hundreds at his home.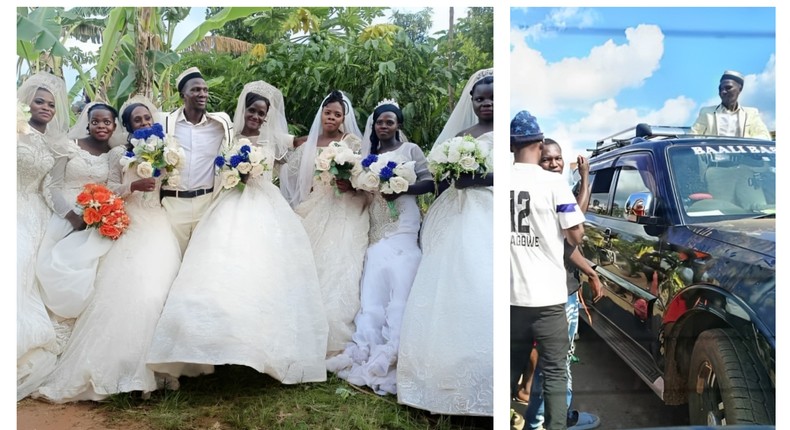 Two of the women are sisters, while two others share a first name, Aisha.
At 8 am in the morning, the brides were taken to local salons for styling, before they were placed in waiting Super Custom vans, with specialized plates bearing the names of each of the brides.
After the religious rite, Nsikonnene and his wives held a big procession led by bodaboda cyclists, through the towns of Kalagi, Kasana, and Nakifuma, before arriving at their home at 6 pm in the evening.
At the reception, the brides, Aisha, Aisha, Fatuma, Sharifah, Rashida, Mariam, and Zainab found their seats prepared, each labeled with their own names.
Nsikonnene while speaking at the reception, thanked his women for being loyal to him; (the eldest has been with him for seven years.)
The groom revealed however, that in the future he will be bringing in more wives.
"I introduced them separately and decided to wed them all at once to make one big happy family," he said.
"I am still a young man and in the near future, God willing, I cannot say this is the end of it."
His father, Hajj Abdul Ssemakula said polygamy has been long practiced in this family.
"My grandfather had six wives who were separated by curtains in a single house," he said.
"My own late father had 5 wives and I myself have four wives who live in one house."
The residents described the wedding as one for history books, while others said the event had cured their jealousy altogether.
"This is history for us. I have never seen anything like this in my 57 years," said one man.
"I cannot be jealous anymore; I also want to be married in the same way," remarked a female guest at the reception.