The feud between Alien Skin and Sanyuka TV has taken a whole new twist as the media outlet has deleted the singer's content of their reach off their social media handles.
A few months back Alien Skin bitterly fell out with the Naguru-based media outlet Sanyuka TV accusing them and several other mainstream media of disparaging him whenever they got a chance.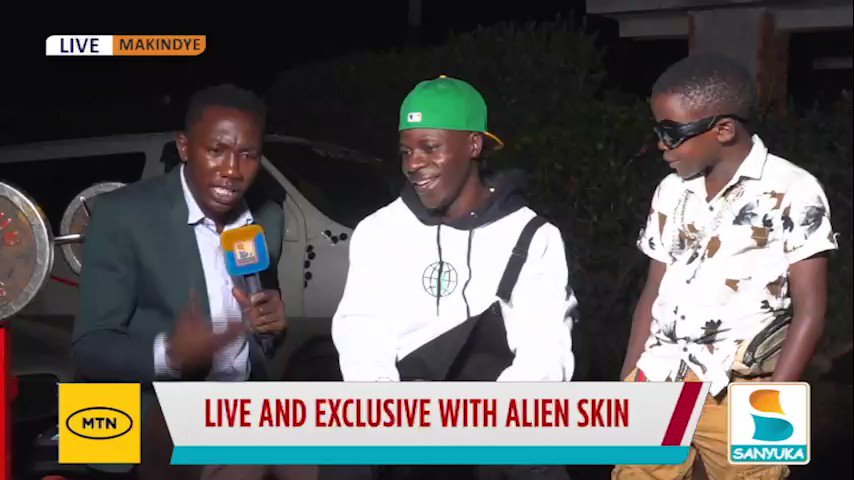 Alien Skin retaliated by boycotting station, and vowed never to share a stage with some of their hosts at any event.
Alien cemented his decision when his team hauled Sanyuka TV entertainment journalist Sandra Lian off the stage during the Purple Party event in Fort Portal.
As if that was not enough, Alien Skin's men dragged celebrated events MC Kats off the stage during Geosteady's just-concluded concert at Hotel Africana on Friday last week.
Despite Alien and MC Kats having their personal grudges, the latter is affiliated with Sanyuka TV. The Fangone Forest singer's move seems to have left the media outlet administration with a sour taste in their mouth before coming up with a conclusive decision.
According to reports, Sanyuka TV presenters were instructed not to air stories regarding Alien Skin, or mention his name anywhere during their shows.
Furthermore, all the moments Sanyuka TV had captured about Alien at Gesoteady's concert were deleted from all their social media handles.