Radio host Mr. Henrie revealed he still talks to his ex Prima Kardashi. During a show, a co-host at Galaxy FM, who goes by Florah Show told him: Sometime back Geosteady (Kardashi's baby daddy) said he was the right person to talk to overcome the depression he thought you were going through.
Mr. Henrie responded: I don't know why he thought I was depressed. Florah said: That's what people thought.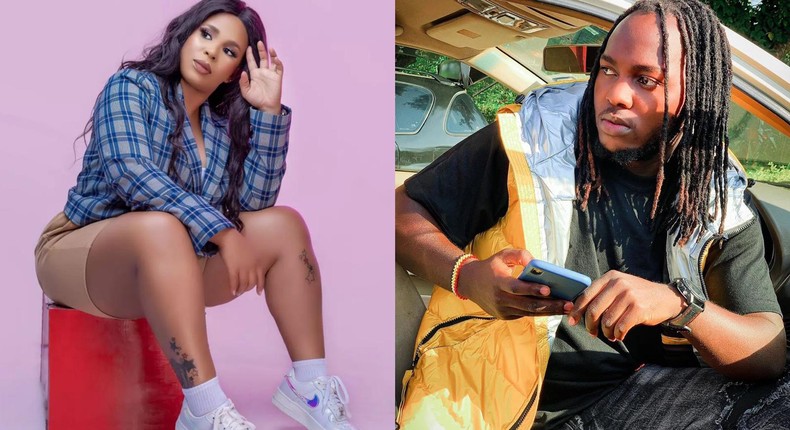 Mr. Henrie then explained why he talks to both Geosteady and Prima: These things differ. The reason I still talk to Prima, as a person, is because breaking up with someone doesn't mean that you are sworn enemies with you. And the reason I can talk to Geosteady is because he is an artiste and I'm a radio and TV presenter. We both need each other. it's a chain. So at the end of the day, you put the ego aside.
At the end of 2022, Prima Kardashi said she doesn't miss him, adding that she deletes memories once a relationship is over.
"I'm not the type that misses. If someone is out of my life, like relationship-wise, I don't usually have a memory. I'm not the kind of person that dwells on memories. I go with what moves. I'm going forward," she said.
The two dated shortly before she broke up with him and said that she was using him to nurse her wounds after splitting from singer Geosteady.
Their relationship was a thing of admiration to their gleeful fans as they shared pictures of happy times on social media.
Then in June of 2021, Kardashi flew to Dubai to attend MC Richie's Summer Festival where she hooked up with South African-based socialite, Medi Moore.
It was like she hadn't left a boyfriend in Kampala.