President Yoweri Museveni who came in public in a bulletproof cage has called on youths in Uganda to exercise caution when selecting courses at universities and other higher institutions of learning.
While some courses might seem attractive and fancy, Museveni said youths should be careful to find out if they are relevant enough for the highly competitive job market.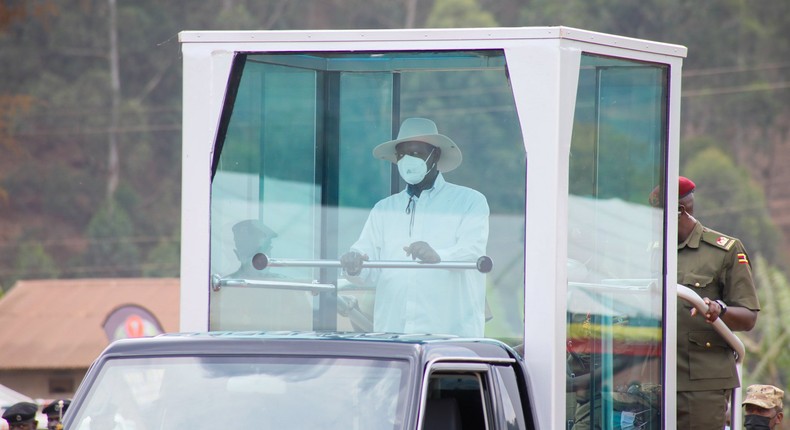 "I have been telling you that these courses you are selecting, you need to be more careful," said the President on Friday afternoon.
"It might be something you like, but you should take it knowing that it might not get you a good job. For instance, if get a degree in speaking Latin, where are you going to work?"
President Museveni was speaking at the event to mark International Youth Day, which was held in Kabale District.
For those who insist on taking fancy but unmarketable courses, the president advised them to always be able to take up other extra courses that are more relevant.
"You can study your Latin because you like it, but you should be able to do something else in say agriculture or manufacturing.
Speaking at the event, Minister of Gender, Labour and Social Development, Hon Betty Amongi said her ministry is currently grappling with a large number of youths who are unemployable because of the disciplines they studied in school.
"The majority of the youth who go through formal education and graduate with degrees in humanities find it difficult to get jobs," she said.
"So we are now looking at trying to change their mindset so that on top of their degrees they accept to have some skills that can support them in creating jobs.
"The private sector is the main employer of the youths today. We want to support youths to create employment, not to get employment," she said.
This year's Youth Day celebrations were held under the theme; "Accelerating Recovery from Covid-19 and Full Implementation of the 2030 Agenda: The Role of Youth"
However, he's entire speech was overshadowed by the fact that he's leaving into fear for his life, hence speaking to Ugandans while in a bulletproof cage, yet he brags about bringing peace in Uganda.