Ugandan hip-hop legend Daniel Lubwama, known professionally as Navio is not hurt by his mom's recent revelation that he was an 'unplanned' child.
Navio says while he might have been unexpected, he has no hard feeling because he's still loved dearly by his family.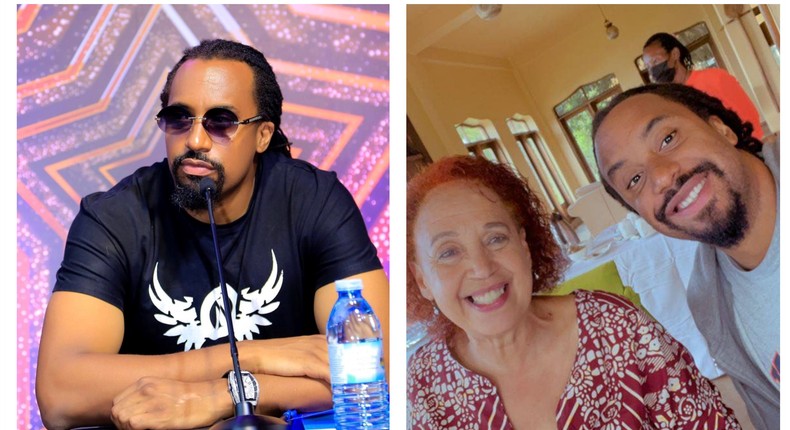 Navio's mother, Mrs Magie Kigozi made the revelation in a recent televised interview.
She said she and her husband, the late Eng. Dan Lubwama Kigozi had planned for and were happy to have two kids, a boy and a girl, before Navio came along.
Speaking at a press conference yesterday, ahead of his upcoming concert, Navio described his mother's account as "hilarious."
"My mom had an interview three months ago in which she told the whole country that I was unplanned…" said the 39-year-old.
"But they still love me, so it's okay."
Navio is the last born of three siblings; Michelle Kigozi, a medical doctor,and Freddie Kigozi a musician.
Despite being "unplanned," Navio turned out to be very beloved to his mother.
Mrs. Kigozi revealed last year that she in fact over-breastfed Navio and that she only weaned him when her mother complained about it.
Dr Kigozi also said that she was disappointed to see Navio gravitate towards a music career because she had hoped for her son to get a regular career.
She said she essentially forced him to get a degree in a bid to sway his mind away from the music industry.
Nonetheless, she said although his degree is gathering dust in the house, she is proud that he got it because it will probably come in handy one day.
Navio started rapping as a teenage boy as part of the award-winning hip-hop group Klear Kut which introduced the term "Ugaflow" to describe Uganda's hip-hop scene.
On September 2, he has a mega concert dubbed "20 years of Navio" at the Kampala Sheraton.