US-based Ugandan socialite and entrepreneur Juliet Zawedde showed financial muscle this week as she chose to celebrate her birthday with the world in the bustling Times Square in New York City.
The businesswoman based in Boston, Massachusetts paid out a large sum of money to run multiple ads celebrating her 44th birthday, on the Times Square billboards.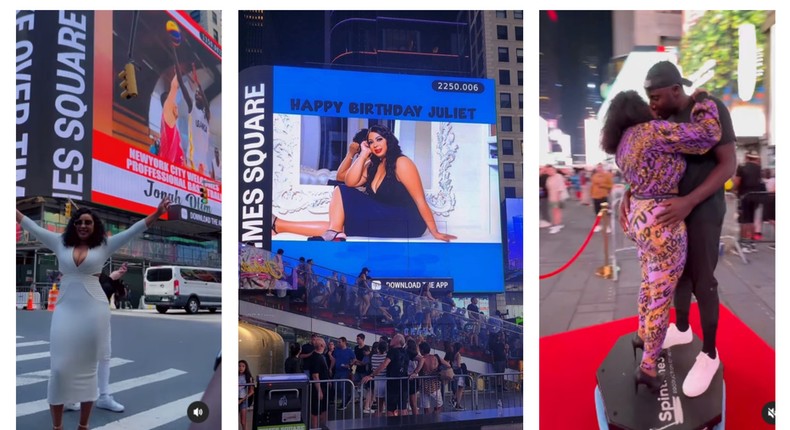 Billboard ads in this busy Manhattan intersection and famous tourist destination can go for up to $50,000 apiece.
The modish businessman known to her peers as Boss Bae, took to social media to share videos of herself posing in front of the running ads.
"Anything is possible. This is New York….Thank you New York City," she captioned one of the videos.
One of the posters simply read "Happy Birthday Juliet" with stunning pictures of herself.
In another ad, Zawedde welcomed her boyfriend Jonah Otim to New York City.
Otim is a former Ugandan basketballer who played for Ndejje University, City Oilers, and the Silverbacks, the Uganda National basketball team.
The two started dating early this year.
Zawedde also ran another advert promoting her country Uganda on the jumbotrons. In this particular one, she showcased Uganda as a leading tourist and investment destination.
She rallied New Yorkers to come "Visit and Invest in Uganda"
Many of her Ugandan Instagram followers were impressed.
"My sweetie representing the whole nation," commented TV host Zahara Totto.
One Juma Katerega wrote, "Am so proud of you" while Oman Rafiki thanked her for exporting Uganda.
Zawedde said she sought to present "Uganda the pearl of Africa to the World."
Born in 1979 in Nateete township, Zawedde traveled to the US where she opened her business named Convenient Home Care and an NGO, Juliet Zawedde Foundation.
She's always had a stint in music, releasing a number of songs including Drillz, Lollipop, and Bosslady.