Faridah Nakazibwe teased Navio about not connecting local artistes with some of the biggest names in the global entertainment industry he has worked with.
Nakazibwe said: This gentleman here has worked with big names — Burna Boy, the likes of Wizkid, R Kelly, and so many others, so you haven't connected us? We demand a connection.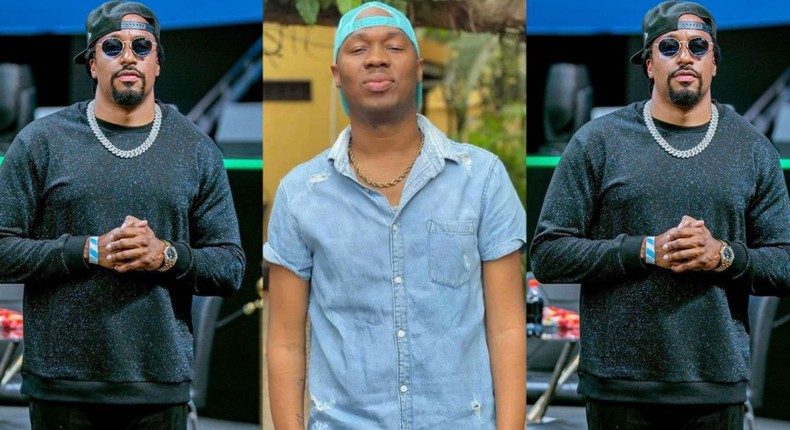 Navio and Nakazibwe were referring to remarks made by Big Eye that his nemesis Eddy Kenzo doesn't share his connections with peers.
Big Eye StarBoss, real name Ibrahim Mayanja, said the Grammy-nominated singer is a selfish man who doesn't want to see other musicians thrive.
According to StarBoss, Kenzo has established many connections across the globe but he never shares them with anyone.
"… the nigga kept all international contacts & connections for himself for like 9 years now," StarBoss' Facebook post reads in part.
"Some people don't deserve the motto of 'For GOD AND MY COUNTRY" coz inside their hearts there is 'FOR GOD AND MYSELF'. Hope am not wrong to term it as being selfish."
The Husband Material singer shared his sentiments after Kenzo lost the Grammy award for Best Global Music Performance to the South African trio of Wouter Kellerman, Zakes Bantwini and Nomcebo Zikode.
Navio, real name Daniel Lubwama Kigozi, was born on October 18, 1983, to Daniel Kigozi Serwano and Dr. Maggie Kigozi.
Navio has said that he inherited artistry from both parents, with the father having been a good photographer despite being an engineer by profession and his mother also loved music a lot.
Their family moved to Kenya during the civil war in Uganda, and Navio, the last born of three, was born there.
He went to St. Andrew's Turi in Kenya for primary school and played a number of sports, including rugby, hockey, basketball and swimming.
High school was in Uganda at The Aga Khan High School, then joined Monash University in South Africa for an undergrad degree in communications and media studies and international relations.
In primary school he impressed his mother after she bumped into him singing at home. She took him to Baava Studios owned by the legendary artist Hope Mukasa. At the time, Steve Jean, now a household name, was interning at the studio and he recorded Navio's song.
Navio, with the guidance of Jean, wrote the song himself. He was also active school choir for some two years.
In primary, Navio had studied with Lang who would meet The Mith and Papito in high school. Lang connected the two to Navio and they started hitting DV8 Club for rap battles during holidays.
Mitch Egwang hosted the battles that featured some known names like Bataka Squad (Babaluku, Saba Saba [Krazy Native], Big Poppa Momo MC., Newton, Lyrical G, Chagga, Shillingz and Farious), Da Squad, DJ Mumu, MC Yallah and others.
Klear Kut later got a deal with a record label named DMD and it helped them record their first album with 16 songs, and the first song off it was ALL I Wanna Know featuring Juliana Kanyomozi.
Before teaming up with DMD, they had recorded their first song titled Nothing Wrong and it was produced by Steve Jean.
Their next album dubbed K2 had a song titled Superstar on which they featured Bebe Cool. Another song on the album called Mon-coeur put them on the prestigious Kora Awards nomination list.
Navio will mark 20 years in the music industry on September 2 in a concert held at Sheraton Hotel Kampala.