Ahead of their highly anticipated music battle with Cindy Sanyu, singer Sheebah Karungi, has elevated the war of words to a new level in collaboration with light middleweight boxer Isaac Zebra.
In a recently unveiled video, Sheebah sets an intense tone as she exudes sweat and radiates energy.
This enigmatic message serves as a challenge to her competitor in the music realm, Cindy, also known as Cinderella Sanyu.
While Sheebah is well-associated with music that's interwoven with suggestive themes and accentuated by alluring hip movements and graceful posture, her latest release 'Tosobola' takes on a new dimension of preparation akin to a battle – one that involves sweat and, metaphorically, even blood.
Sheebah ingeniously selects the lively ambiance of Kampala's urban boxing scene, featuring the illustrious Zebra Boxing Club.
In this presentation, she assumes the role of a boxer, donning form-fitting pink shorts paired with a pink cropped tank top, and her attire is completed with boxing gloves.
Sharing the spotlight is Isaac Zebra, a quarterfinalist from the 2023 IBA Championships, who serves as her sparring partner in this striking display.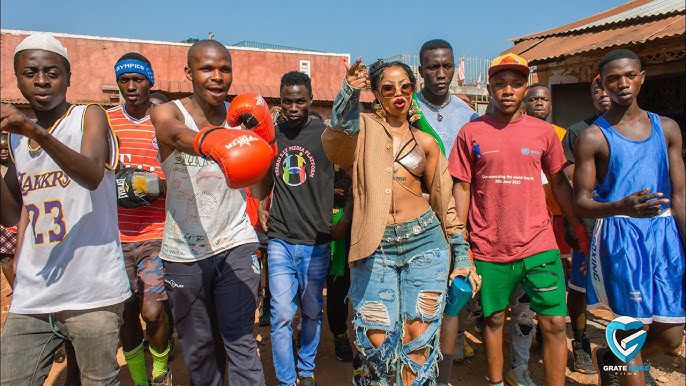 Through a series of sequences, Sheebah guides viewers through her training routine, including jogging through the vibrant ghetto, skillful rope-skipping, and intense sparring sessions, all culminating in a dramatic bout against an unseen opponent.
"Tosobola," loosely translated as "Unmanageable," succinctly encapsulates the essence of the video, wherein Sheebah's performance is truly knockout-worthy.
The accompanying song features Sheebah delivering cryptic lyrics that underscore her blessings as divine and emphasize her resolute determination to triumph over her rivals.
These themes are metaphorically portrayed through visual elements that draw parallels with a boxer's triumph over their adversary in the boxing ring.