Singer and music producer Eddy Yawe is unhappy with Eddy Kenzo, and over the weekend, he made his feelings known.
Yawe bitterly unloaded on the President of the Uganda National Musicians Federation (UNMF) for refusing to recognize him as a "key stakeholder" in the music industry.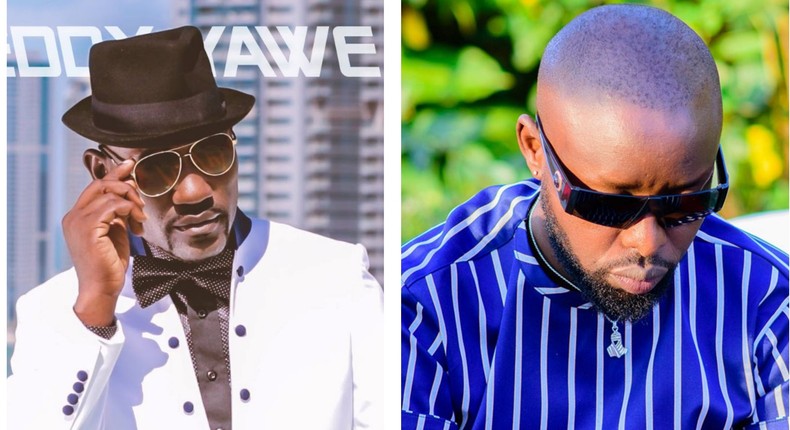 He also accused the federation of being used by the ruling Government as a vehicle for other sinister intentions.
Speaking on the sidelines of last weekend's Afrigo Band Concert at the Kampala Sheraton, Yawe fumed about Kenzo not officially inviting him to join the federation.
"I think I deserve to be respected. Because how can you ask why I am not at your party when you haven't invited me?" said the Jila Tukigale singer.
"How can you say that you put the invitation on social media? Are you really saying that you invited Eddy Yawe over social media?"
Yawe went on to downplay the roles and achievements of the Musicians Federation so far and questioned the qualities of its leadership.
Yet, on the sidelines he said, are people like him who have played a much greater role in building Uganda's music industry.
"I hear that all they do is go and collect money from the government, and kneel down before ministers. But what they need to know is that in this business, there are real stakeholders or what you might call senior citizens
"I want to remind you that singing many songs and having fans doesn't make you a stakeholder. It is all about what you have done to encourage and support the industry.
"If you are a producer and found people who were thugs, and criminals, and prostitutes and turned them into great artists, then you can talk about being a stakeholder."
Kenzo however, yesterday hit back at Yawe, informing him that he's still welcome to join the federation.
"My Elder brother Yawe, the Federation door is wide open, if you have any contribution to make, you are more than welcome," he said.
The UNMF president also advised Yawe to consider attending their weekly jam session meetings which bring together different musicians on Tuesdays at their offices.