Radio presenter and musical artist Crysto Panda met TikTok 'Empele' dancer one month after he started to plan for their meeting. The presenter posted shots of their meeting on his TikTok and Instagram showing the interaction between her and the neighbours. The meeting ended on a high note for the fan.
In a TikTok dated July 5th 2023, Panda posted a video of TikTok user Rania890, now identified as Ainomugisha Mercy dancing to his song "Empele". "I wanna challenge her, help me meet her," he captioned the video.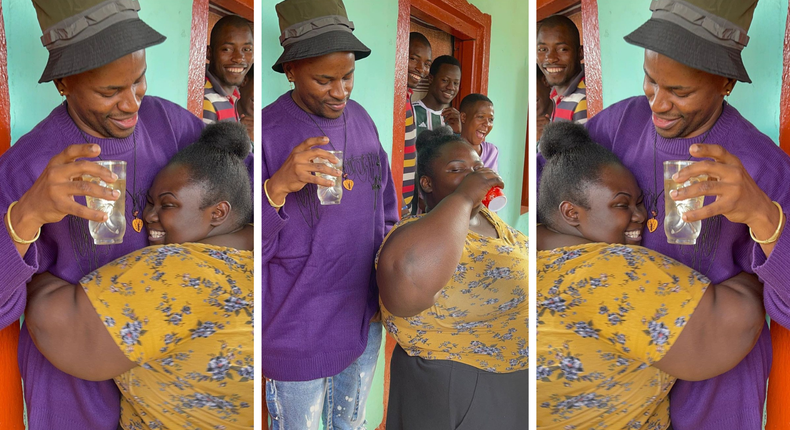 Panda visited her over the weekend at her home. "Finally met the lady who made the viral video while dancing to my song Empele," he captioned the first video. He posted over five videos showing their interactions.
In one of the videos, he gets into a dance battle with Ainomugisha alongside a friend he moved with. However, the fiery dancer proved to be too good at the dance that Panda and his friend vacated the dance floor.
The neighbourhood came alive with the artist's presence with drinks, and jokes, and a Manchester United fan who got a brotherhood hand sign from Panda.
Eventually, the conversation turns to Ainomugisha's housing situation. Panda asks her how much her rent fee is to which she replies saying it's Shs110,000. After jesting that it is a high rate, Panda says he's going to pay her rent for the next three months.
He then takes out his phone and sends the Shs330,000 via mobile money. Before paying her rent, Panda gave a happy Ainomugisha cash in Shs20,000 notes.
Fans have commended Panda for his kindness and fan appreciation.