In an operated led by the officer-in-charge of Nateete Police Station, Assistant Superintendent of Police Hassan Ssekalema, together with the Flying Squad raised Hanifa Tower along Luwum Street and arrested 101 people suspected to be in posession of a mobile phone that was stolen from a Senegal Diplomat.
Police raided mobile phone repair shops at Hanifa Tower on Luwum ​​Street and arrested the suspects and confiscated the mechanized phones while searching for the stolen phones.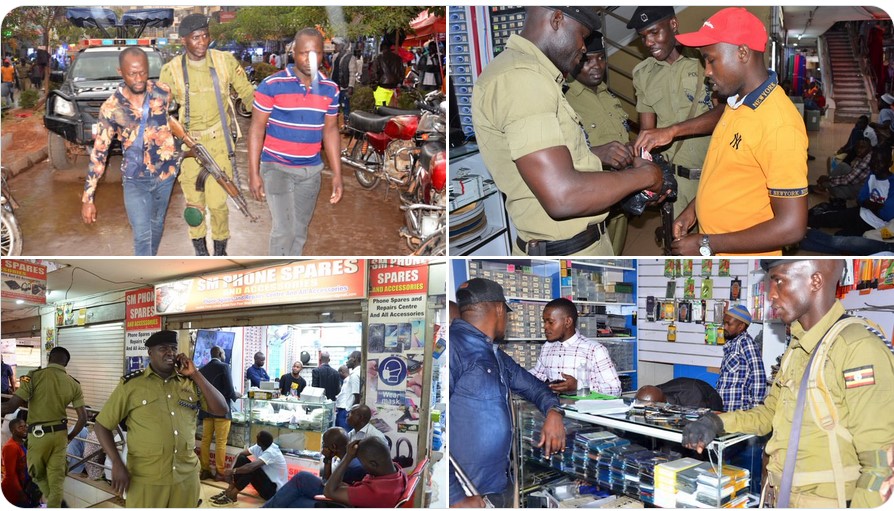 The incident took place on Monday when officers from Nateete Police Station assisted by the Flying Squad raided the Hanifa Tower in search of a stolen mobile phone from a Senegalese official who was traveling on the Northern Bypass in Busega on July 28 2023 at 4:00 p.m.
The officers, led by Nateete Police Commander Hassan Ssekalema, went to Hanifa Tower after tracking the phone using technology and discovered that it was working at shops at the building.
The officers raided all the shops and ordered the occupants not to leave and arrested those who were found carrying several phones in their pockets. They were taken to CPS.
Police spokesman Patrick Onyango said after receiving a complaint that the thieves opened the car door and took away a bag containing a laptop, passport documents and a mobile phone.
He said 101 people were arrested in the raid to assist in the investigation as the stolen phone was traced to the Hanifa building.