MC Kats convinced Alien Skin to collaborate with Fille Mutoni on a song.
Kats, real name Edwin Katamba, made the request publicly during a TikTok live session hosted by Skin that featured a number of stakeholders in the music industry.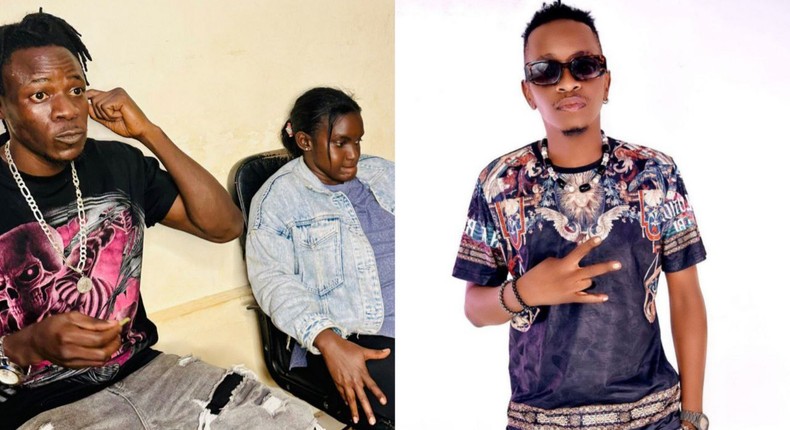 Then videos swirled Tuesday showing Skin, real name Patrick Mulwana in studio with Mutoni.
He later took to Twitter and posted: "New music Coming Soon ft Fille…"
Alien Skin has been dropping collabos with a number of artistes that even hit the industry before him but had sort of dropped off. Some of these are Clever J and Aziz Azion.
On Friday, August 4, he is supporting Clever J as he holds his concert dubbed Clever J Eddogo Lyafuluka at K.C.C.A. Grounds Opposite Philip Omondi Stadium.
The concert is being promoted by Andrew Mukasa, better known as Bajjo.
Meanwhile, Fille Mutoni has always credited her baby daddy MC Kats for introducing her to the music industry and playing a fundamental role in her success.
The former lovebirds were together for 10 years before they eventually broke up in 2019.
Before splitting, they had sired a daughter named Abigail Farica Bwiza Kisakye. She has kept them together despite not being romantically involved anymore.
In interviews, Fille Mutoni has said she's okay with the ups and downs in their relationship because it'll never be 100%.
But she's praised him for being a responsible co-parent.
Meanwhile, during an interview with Galaxy TV, Mudra was asked if he would collaborate with Skin on a song.
He said while he would want to, he might not do it because of the way Skin, real name Patrick Mulwana, releases music.
Mr. Henrie, who was interviewing him, was prompted to ask because Mudra, born Alfa Sebunya, was among artistes that first gave Alien Skin an opportunity to perform on stage.
He said one of his misgivings about the Sitya Danger hitmaker is releasing music so fast.
He believes would not give them enough time to market their song.
Mudra said he wants to take time and give his best to the song.