Cindy said she would participate in a music battle pitting her against a combination of Sheebah, Spice Diana, Lydia Jazmine, Winnie Nwagi and all the female singers that have joined the music industry in the past six years.
"Even if they combine all the female musicians that joined the industry in the past six years I can face off with them," said Cindy during a media interview.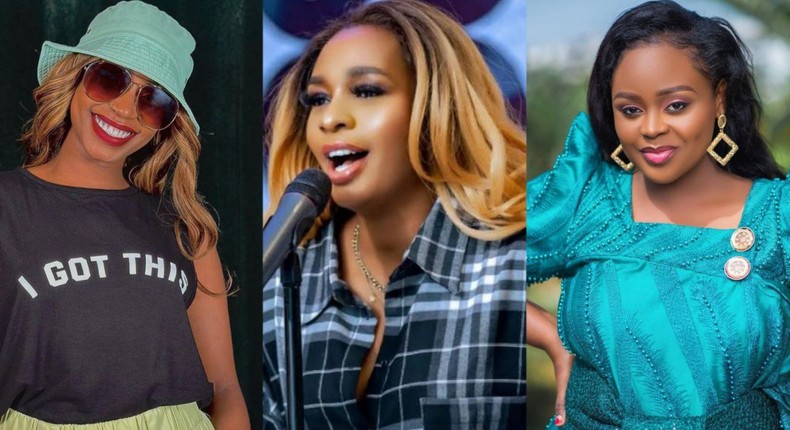 Cindy, born Cinderella Sanyu Munyonjo, said after her September 15 concert that's set to happen on the same day as Sheebah Karungi's Yolo Festival, no female artiste will want to compare themselves to her again.
"They should stop comparing me to those kids. After that show, they won't compare me to anyone again… I am confident in my live performance…"
Asked if Rema Namakula should also be teamed up with the aforementioned singers, she said the Ngonze hitmaker should be removed.
"Rema is a singer… she is an actual singer," said Cindy, "… she knows how to perform on stage."
Cindy said that her earlier remarks about Sheebah, Nwagi and Karole Kasita were about showing that she has more experience than them so they need to respect her.
That she didn't mean to say that they are not good musicians.
She said that just as she "respects" songbirds who were there before her like Juliana Kanyomozi and Iryn Namubiru, musicians who came after her should also do the same.
Nwagi recently noted that Cindy had become too proud by giving herself the role of ranking female singers.
Cindy said that she wasn't ranking her, rather indicating that she still has some time to be at her level of artistry.
She also noted that Nwagi doesn't have to respect her.
"She doesn't have to respect me," said Cindy, "… I know what I know."
She continued: "If talking about my status makes you feel bad, then I can't help you.
"… I don't want to say anything negative about Winnie Nwagi because she is a young brand. There is a way she is positioning herself. I've always supported her career."
There are reports that Cindy and Sheebah will face off in a music battle at Kololo Airstrip on September 15.