Singer Chris Evans Kaweesa got a little carried away last weekend as he hung out with fellow artist Chosen Becky and her very amply attractive siblings.
Evans and Becky headlined this year's Annual African Descent Summit in the Canadian city of Toronto.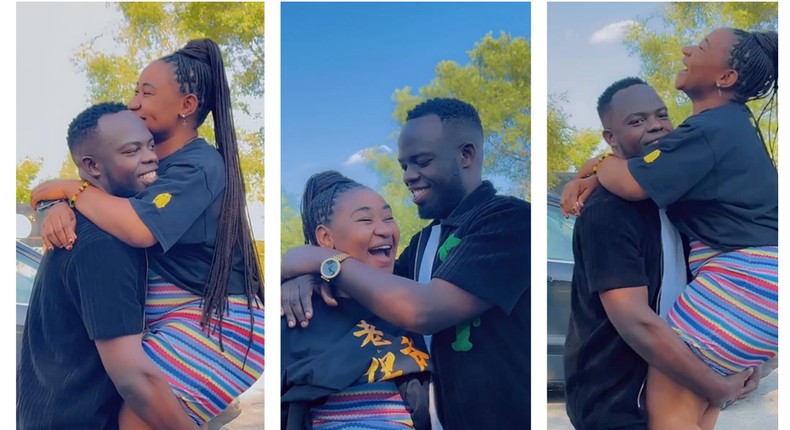 The show, held on Saturday July 22 at the Toronto Pavillion in North York, was well attended. The artists put up stellar performances that got the revellers on their feet.
After the show, both artists got time to hang out together with Becky's sisters Daisy, Dona, Rebecca and Ruth.
Kaweesi, however, appeared to lose control as got a bit handsy with the elder sister Dona, lifting her up playfully and looking all smitten.
"This married man just won himself a Canadian woman…Mr Kaweesi your woman will leave you," remarked Becky who caught the moment on camera.
Dona (real names Radona Kisakye) is part of Becky's team, handling mostly her wardrobe. She's 25.
At 36 years of age and with nearly 15 years on the music scene, Chris Evans says he's not yet had good luck with women and has not been able to settle down with one.
Around 2019, the Wamponya singer said he decided to give women a break. That was after so many heartbreaks including one where a woman dumped him for another man, and then invited him to sing at their wedding.
Meanwhile, Chosen Becky says she's proud of how far she and her siblings have come.
She posted on Instagram; "Blessed four sisters 🥰🥰👯‍♀️👯‍♀️@Daisy, Dona , Rebecca and Ruth ❤️. Ladies , give birth … God can bless all your kids at once . Imagine the happiness our mother has today when she sees us all 🥰🥰🥰💃💃. Yazaala bana Masaka naye kati Tuli ba Canada 💃💃💃 haleluyyyaahhh."
The girls, who hail from Masaka, struggled financially when they first came to Kampala. At the time Becky broke onto the music scene, they were being supported by Dona, who was working as a maid in Saudi Arabia.