Prime Minister Robinah Nabbanja concluded her visit to Italy on Monday, July 14, with a visit to the Vatican where she met with His Holiness Pope Francis.
The Ugandan Premier described meeting with the Pope as a "privilege," while sharing details of the trip.
She said Pope Francis during the meeting, asked her to deliver a message of peace to Uganda.
"He told me to encourage people to be peaceful and avoid wars because they cost life and help those in need," Nabbanja said.
"His wish is for men and women to have children."
Nabbanja traveled to Italy over the weekend to attend and deliver a keynote address at the European Corporate Council on Africa and the Middle East Annual Summit.
The event at The St. Regis Hotel in Rome, Italy was held under the theme; "Feeding a Planet of Prosperity."
The ECAM Council was established to promote constructive dialogue, new partnerships and strong cooperation between Europe, Africa and the MENA region.
Its vision sees a world where the fundamental pillars of society such as healthcare and education are viewed as economic investments not burdens.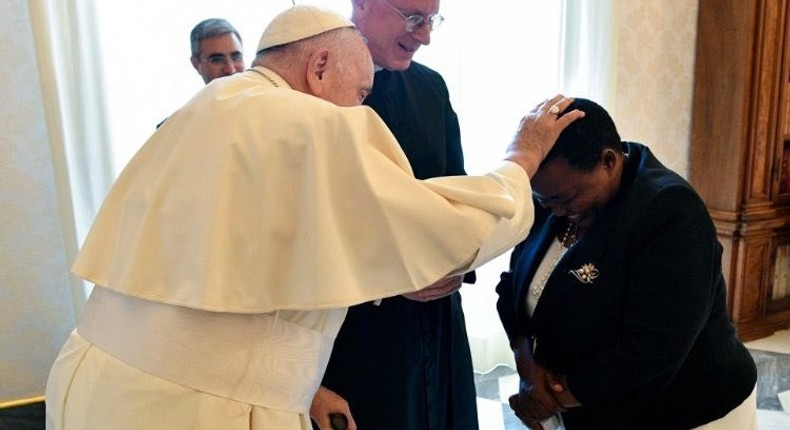 "When nations spend on healthcare and education, they invest in the health of their citizens and healthy citizens result in higher performing students and healthy working adults," its founder and director, Kamel Ghribi, a Tunisian businessman, wrote on its website.
"We hope to use our platform to create alliances where we are all kin to each other, a true league of nations that knows no borders but is open to all and refuses no one. What better place to begin our second session than in Rome — a city with historically strong and positive ties to the MENA region, and consequently, the perfect conduit country to Africa," he added.