A kindergarten teacher went live on TikTok on Thursday morning to stream a brutal fight with her partner. Gloria Kutesa says her boyfriend punched her three times in the face and locked her inside their bedroom before she started the livestream.
Kutesa, who goes by "Glosh bae UG Official" on Tiktok, is a reputed teacher in Lugazi township in Buikwe district, and the proprietor and director of Dillon Daycare and Pre-school, a high-end nursery and kindergarten center.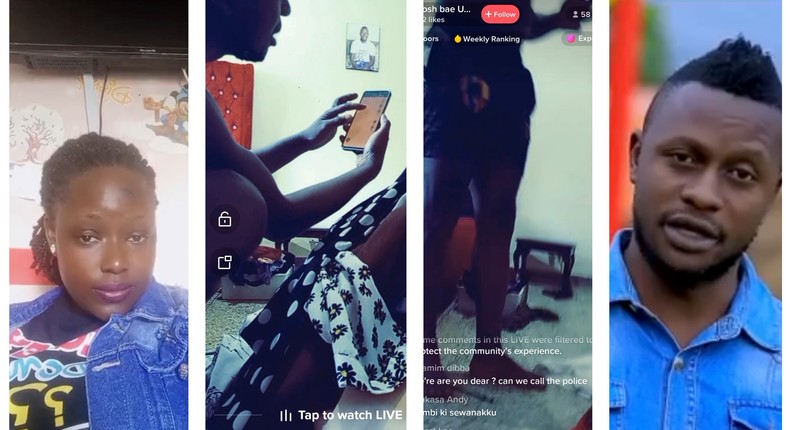 The couple picked up a fight over her phone password. The boyfriend, only identified as Fred, said he heard some unsettling allegations about her from his friends and decided to confront her to get to the bottom of the matter.
He allegedly attempted to use her finger print while she was sleeping, to access her WhatsApp.
In the wee hours of Thursday morning, July 6th, Kutesa says she tried to gather her clothes and move to the guest room of their newly constructed house. He however, ransacked her wardrobe and locked the bedroom, preventing her from leaving.
For about two hours, she pleaded with the boyfriend, a former semi-professional footballer who played in the Masaza tournaments, to let her out but he repeatedly refused to unlock the door.
Kutesa also contacted one of her friends to call the police to the house but the authorities had not yet shown up by the end of the stream.
During the fight watched by hundreds of users on the video platform, Kutesa accused her man of having multiple affairs including with her own sisters, her friends, teachers from her school and a maid.
"I told you I don't want to see teachers coming to my house again, but the other day when I left for town you called (teacher's name withheld) here. I even saw your messages where she said you spent a night together," Kutesa charged.
As the family breadwinner, Kutesa accused Fred of staying home and doing nothing while she fends for them and cares for their two young children. She says on several occasions she has loaned him money to start his own businesses but he squandered it all.
"I just want my life back; there is no going back from here…You hit me three times and my head hurts. Just open the door and let me out," pleaded the teary teacher, as Fred asked to be forgiven and allowed another chance.
Several users on the stream advised the couple to seek professional help while others were unhappy that they washed their dirty linen on the public platform.
With over 17000 cases and 300 deaths recorded in the past year according to the latest police crime report, domestic violence remains on the rise in Uganda despite the presence of laws and policies to protect victims and survivors.