Balaam Barugahara said Bajjo's thinking capacity is at the level of Champion Ogudo. "Bajjo thinks like Champion Ogudo," said Barugahara in a media interview.
According to Barugahara, the only singer Bajjo can afford to book at the moment is Ogudo. He also said that Bajjo, real name Andrew Mukasa, is the Champion Ogudo of promoters.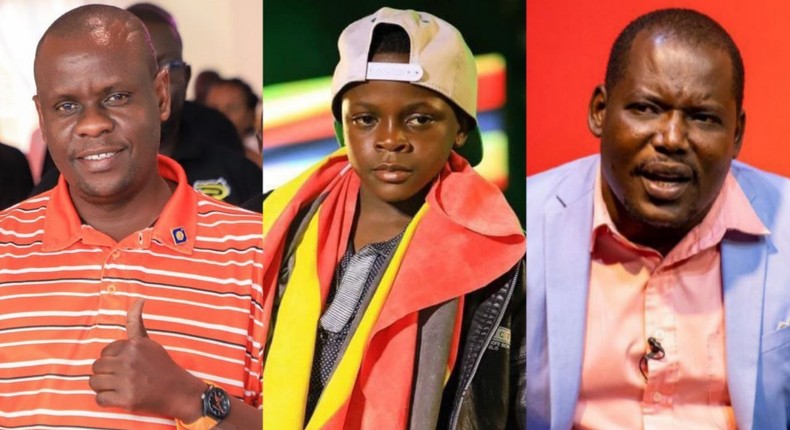 "The only person Bajjo can afford is Champion Ogudo who costs Shs13,000," said Barugahara. "Honestly, Bajjo can only handle Champion Ogudo. Bajjo is the Champion Ogudo of promoters."
For the uninitiated, Champion Ogudo is the self-styled bodyguard of singer Alien Skin, real name Patrick Mulwana.
Ogudo's association with Skin, combined with both their eccentric personalities, has turned him into a celebrity.
He commands a following of 230.3K on TikTok, the Chinese-grown video hosting service.
Ogudo and Alien Skin have worked on some music projects together. The latest song, which is a collaboration of six singers, including Ogudo and Skin, is titled Olimukulu.
Asked recently why Champion Ogudo is not in school, the Sitya Danger hitmaker said he's showing him the music ropes at an early age.
Meanwhile, Balaam Barugahara and Andrew Mukasa, the proprietor of Bajjo Events, have always stung each other on public fora.
On the day of Pallaso's Love Fest Concert, which Barugahara organised, Bajjo took to social media to taunt him.
Earlier in the day, the concert appeared like it was going to flop, and this wasn't made any easier after Alien Skin's concert, which was at Freedom City Mall on the same day attracted overwhelming numbers, forcing organisers to put screens in the parking lot so that revelers who couldn't get space in the venue could follow proceedings.