Senior journalist and political analyst Andrew Mwenda went on the offensive with the current management of the Uganda Airlines, accusing them of underperformance.
In a social media rant on Thursday, June 15, Mwenda raised questions about what he considers severe underperformance by the management of the national carrier under Mrs Jeniffer Bamuturaki.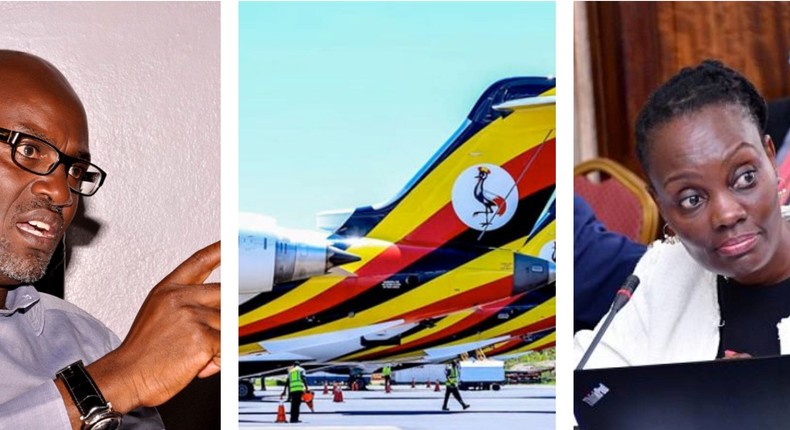 He among others, wondered why the airline has not been able to increase on its flight routes to optimize its current fleet size.
"It's two years now since the current management took over Uganda Airlines. Since then, the airline has not added a single route and the passenger numbers are going down," tweeted Mwenda.
"The two large airbuses are operating one route to Dubai. This is a disaster of unmitigated proportions."
Uganda Airlines currently operates a fleet of six aircraft, two Airbus A330 Neos which are on the Dubai route, and four Bombardier CRJ 900s which are doing regional flights.
The airline however, announced early this year that it plans to launch a new route to London's Heathrow Airport later this year.
Meanwhile Mwenda claimed in his rant that Uganda Airlines is in the process of acquiring more aircraft from American plane makers Boeing.
This, he fears, is likely to be very costly for the struggling airline as it would require fresh training of pilots and crew.
"I am told they want to buy new planes. Why add more onto a fleet when the existing planes are grossly underutilized?" he wondered.
" And why buy from Boeing when you have CRJ and Airbus? That only increases the costs of service, pilots and handling."
In February this year, it was reported that Uganda Airlines was planning to add six more aircraft to its fleet.
"Everyone is pitching: Airbus is pitching, Boeing is pitching and Embraer is pitching, but as Uganda Airlines, what we are interested in is a mid-range aircraft," said Bamuturaki.
The airline was yet to comment on Mwenda's allegations. Its spokeswoman Shakira Rahim Lamar told this reporter when contacted, that she was out of the country.