Chosen Becky thinks Angelina Jolie is a Nollywood actress. In an interview, Becky told a reporter that the late Kato Lubwama had told her she has the potential to become Uganda's Angelina Jolie.
"He called me sometime back and told me, you are a good actor," said Becky of his conversation with Lubwama who was laid to rest on Wednesday, June 14.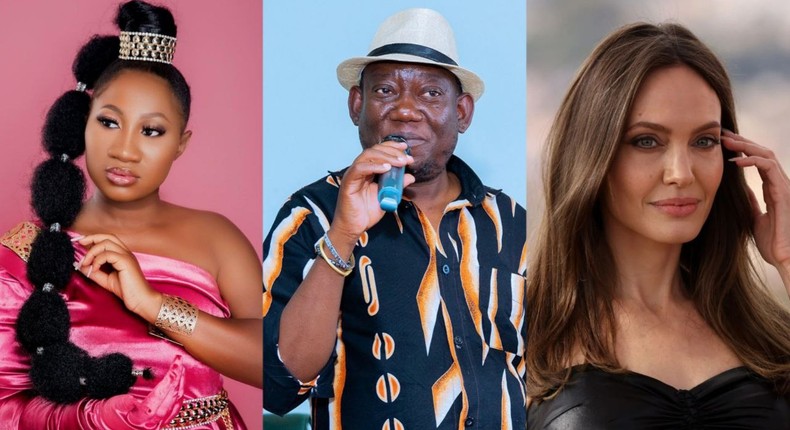 "He had promised to take me to Nollywood. He told me I'm going to become the Angelina Jolie of Uganda."
However, Chosen Becky couldn't tell which film industry Jolie is involved with.
"Is she in Nollywood or Bollywood?" Becky asked the reporter.
After being corrected, Becky said: "Hollywood… the word had become tough."
The interviewer asked again: [Lubwama had promised to take you to] "Hollywood or Nollywood?"
She responded: "You told me Hollywood?"
Meanwhile, Becky, real name Rebecca Kukiriza, said she was already working on some projects with Kato Lubwama on Pearl Magic, which is under Multichoice, the South African entertainment company.
"He heard connected me to Pearl Magic and we were working on some projects… but they are yet to be released," said Becky.
Kato Lubwama was one of the most highly-acclaimed filmmakers and actors in the country.
The 23-year-old songstress has been in she hit the music industry since 2018.
Chosen Becky, who is a mother of one, got the attention of NIK Cosmetics proprietor Joseph Kiwangwa when she was in Senior Four.
The businessman was doing a campaign to promote his products and they'd move around different villages calling on people to compose songs talking about the products after which they would be given prizes.
Becky, who hails from Masaka, was one of those that got Joseph Kiwangwa's attention and he vowed to promote her.
Initially, Becky's mother, who is a staunch Christian – was opposed to her daughter joining the music industry.
But Kiwangwa convinced her that he'd offer her daughter a job in his company.
He brought her to Kampala and took her to renowned producer Nessim with whom they made her first hit titled Bankuza in 2019.
The song, which was written by Nince Henry, became an instant hit, topping most of the charts.
Rapper Victor Kamenyo was hired to be her manager.
Bakunza was followed up by Byabangi and Joseph Kiwangwa, through his company NIK Productions, organised a concert for Chosen Becky. It was a success yet she only had two songs.
In 2019, Becky parted with NIK Productions to be managed by David Lutalo. Kamenyo accused her of being a traitor and impatient. She would part ways with Lutalo as well.