A former Ghanaian footballer, Michael Boye-Marquaye, claims to be the biological father of England and Manchester United star Marcus Rashford.
Michael Boye-Marquaye strongly claims that Rashford is his biological son, and efforts to establish a relationship with the star have been restrained.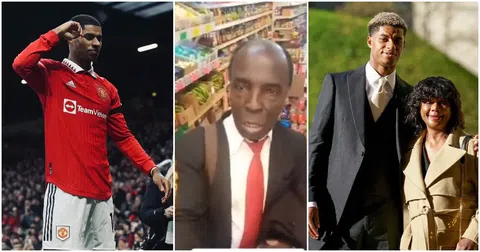 In a trending video online, he called out to the United striker to reach out and put to bed the frustrations he has suffered.
"Look, [Rashford] – I am telling you, I am your father," Marquaye said in the video.
video.
He alleged that Rashford's mother, Maynard Melanie, is not the biological mother.
"Look, you can say this and that about Melanie; I respect her, and I respect her husband very much, but I have to tell you the truth because if I don't, in future, you and your children and your great-grandchildren will be lost," he added.
When asked whether he is coming out because of financial interests, Boye-Marquaye argued that he has kept his mouth shut for too long.
"I am doing this not because of money, again not money, but it is you I want. I am getting furious, but because of you and the respect I have for you, I have kept my mouth shut."