While performing at an event on Saturday night, June 3, a fan (male) started recording her groin area and she slapped the phone out of his hands.
In another video, Nwagi pauses her performance to warn fans against disrespecting her by touching her thighs.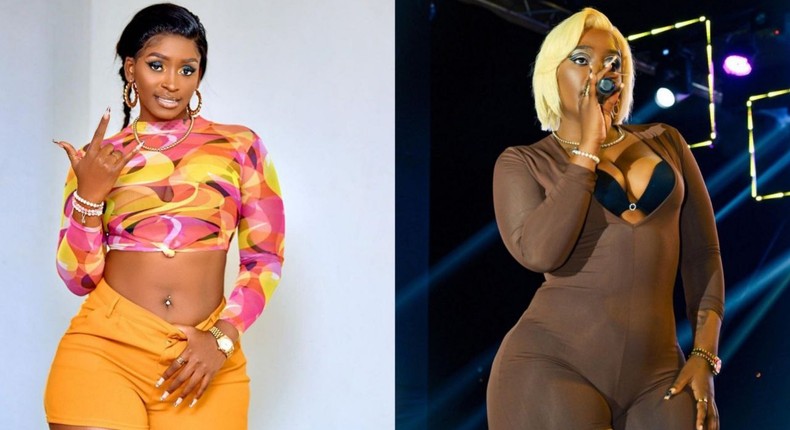 "When you come to see Winnie Nwagi performing, please, show some respect," started Nwagi after telling the deejay to lower the volume.
"I'm not the type you show contempt to. Even clients who book me know that. Don't come here to touch my thighs.
"You're not my mom. I'm not a prostitute. You always meet prostitutes along the road.
"You came with your wife. You're embarrassing her while touching my thighs. What the fuck? Respect yourselves… singing for fans doesn't make me a prostitute… this a performing outfit."
It's been a while since Winnie Nwagi was in the media over spats with fans.
Asked why in a recent media interview, she said those that were disrespecting her got the memo.
"They got the message and they no longer do to me what used to annoy me," Nwagi said while speaking to the media.
"People learn just as how you beat a child and tell them not to do it again."
Until recently, Nwagi has always been known for not holding back when someone gets in her way. She's always ready to retaliate.
Last year was dramatic for her, including the time she was kicked out of the ministry of internal affairs.
Before that, she had been accused of assaulting her housemaid, a waitress at Eddy Kitchen Restaurant in Kamwokya, and quarreling with a promoter among others.
At some point, there were even speculations she could sever ties with her record label Swangz Avenue. But she later said that their relationship is still tight.
Benon Mugumbya, one of the directors at Swangz even praised her recently.
"There are times when things go wrong, and because she is in the public eye, a lot of things are blown out of proportion. But Winnie is a very sweet girl. Very shy, very down to earth," Mugumbya said.
"Only that when you cross the line with her, she won't hesitate to retaliate. Sometimes she is very quick to react. She has that weakness. But besides that, she is very cool."
Despite landing her in trouble at times, a lot of people admire Nwagi for her personality, including Buganda Prime Minister Peter Mayiga.