A bus travelling at high speed along the Kampala-Masaka Highway has struck and killed two female pilgrims from Masaka district.
The deceased have been named as Oliver Nabakooza and Specioza Nambi. The two pilgrims are believed to be residents of Makondo parish in Lwengo district.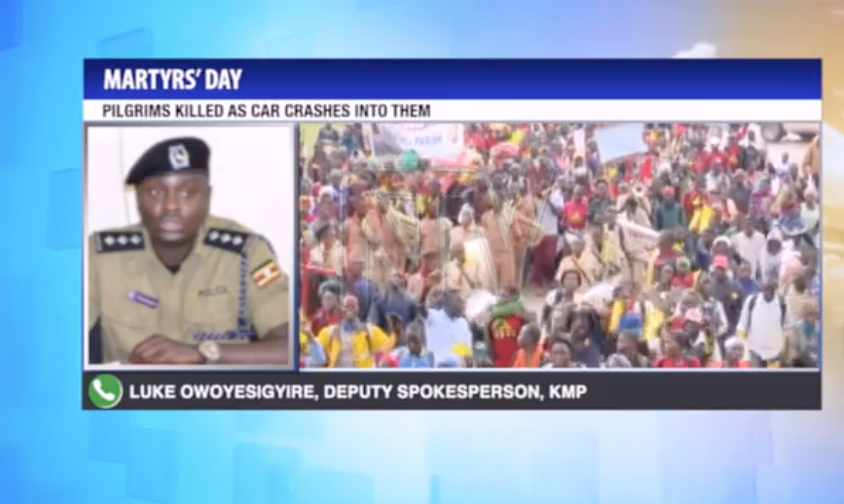 According to eyewitness accounts, the bus headed to Kampala allegedly lost control and struck the deceased.
"It is alleged that the Isuzu bus driver lost control of the vehicle while driving from the Nsangi direction on a slope, veering from his lane and tragically knocking the two pilgrims," said Luke Owoyesigire of the Kampala Metropolitan Deputy Police.
The victims were reportedly walking for the first time when they died, according to catechist Eve Nanziri of Makondo parish.
Earlier, the Inspector General of Police, Martin Okoth Ochola, directed all police territorial police commanders to provide security to trekking pilgrims.
Ochola who urged the pilgrims to stay in one group as they trekked said Police hasn't yet recorded any alarming security incident concerning the pilgrims.
"As you are all aware, 3rd June, the popular religious pilgrimage of the Uganda Martyrs, will be celebrated at Namugongo. As expressed, pilgrims from the neighbouring countries of DRC, Kenya, Tanzania, Rwanda, Burundi and South Sudan, and those from the furthest districts, have started trekking on foot to Namugongo. So far, no incidents
Thousands of pilgrims from different places within and outside the country flock Namugongo to celebrate Martyrs Day.
The day is commemorated in honour of more than 20 people who were killed because of their religious faith in 1800 under the reign of Kabaka (King) Mwanga of Buganda Kingdom.