Chosen Becky is a lucky musician! The songstress is currently upbeat about her upcoming performance in Canada.
She's been on some sort of media tour and in one of her recent interviews she joked about talking to the Canadian singer Justin Beiber.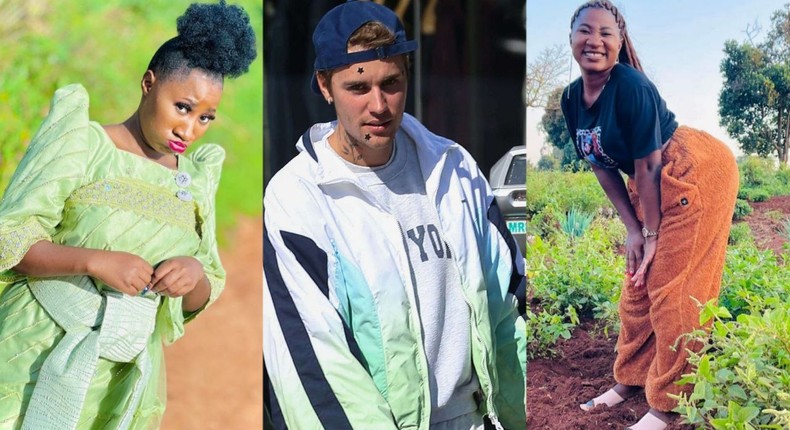 She also claimed she had received calls from the Portuguese football star Cristiano Ronaldo.
"The likes of Christiano Ronaldo are calling me," she said.
"I'm going to Canada in July… Justin Beiber is a Canadian. Of course, we chatted a little bit and he told me we are going to meet when I go there."
Chosen Becky, real name Rebecca Kukiriza, will in July perform at the annual African Descent Summit.
The Summit will be held in Toronto, Canada.
The 23-year-old songstress has been in she hit the music industry since 2018.
Becky, who is a mother of one, got the attention of NIK Cosmetics proprietor Joseph Kiwangwa when she was in Senior Four.
The businessman was doing a campaign to promote his products and they'd move around different villages calling on people to compose songs talking about the products after which they would be given prizes.
Becky, who hails from Masaka, was one of those that got Joseph Kiwangwa's attention and he vowed to promote her.
Initially, Becky's mother, who is a staunch Christian – was opposed to her daughter joining the music industry.
But Kiwangwa convinced her that he'd offer her daughter a job in his company.
He brought her to Kampala and took her to renowned producer Nessim with whom they made her first hit titled Bankuza in 2019.
The song, which was written by Nince Henry, became an instant hit, topping most of the charts.
Rapper Victor Kamenyo was hired to be her manager.
Bakunza was followed up by Byabangi and Joseph Kiwangwa, through his company NIK Productions, organised a concert for Chosen Becky. It was a success yet she only had two songs.
In 2019, Becky parted with NIK Productions to be managed by David Lutalo. Kamenyo accused her of being a traitor and impatient. She would part ways with Lutalo as well.