Songwriter and singer Nince Henry said Spice Diana didn't conclude her first concert at Lugogo Cricket Oval as intended because police ended it before she could perform all the songs she had rehearsed.
Nince Henry, who has written songs for Diana and also collaborated with her on a song, said she left crying.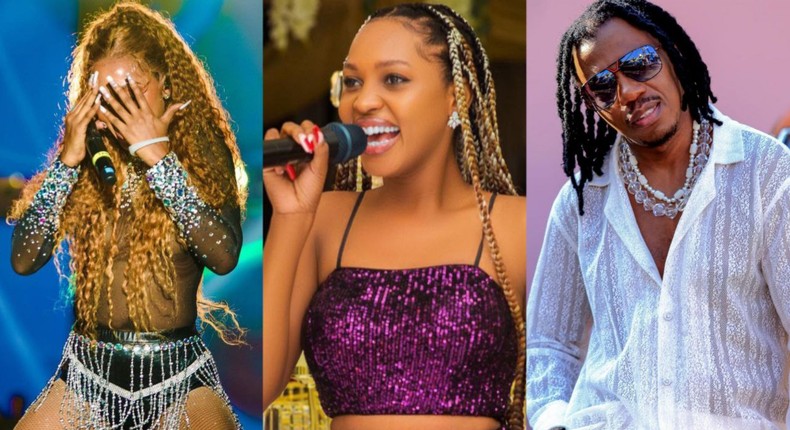 Read his full Facebook post below.
"SPICE DIANA's PAIN! We didn't perform Body with Spice Diana last night! But thank you all for coming guys! We rehearsed well. We were given time to go with the show to 1:00am. At 11:45pm, police and military raided to stop the show!
"The last and the most prepared part of the show was [five] songs including Regular! It was all tension backstage and we pleaded with the DPC to allow Diana to perform at least REGULAR because it was the most anticipated piece! DPC refused. Police officers went up on stage! Diana saw them.
"Communication was made to everyone to switch the machines off! Diana announced REGULAR and the band stated it! Lucky they gave us five more minutes for that last song and boom sound off! Spice Diana left that stage crying because she wasn't allowed to close her show the way she had prepared. She didn't perform her favorite songs!
"And some people have just called me Proud for not performing. But it's not pride I was there and we were well prepared including other collaborators but time guys. Time yaganye! Continue supporting Spice Diana and Ugandan music! Bigup to the team and manager roger for putting together all this. Man of the night is Bushington and Myco Ouma. See you on the next one!!"
Diana invested heavily in staging a successful concert and people were stunned by the stage infrastructure.
As per law enforcement guidelines, concerts are supposed to end at midnight.