The Ugandan media fraternity and social media at large have been delighted by the pleasant shock of radio legend, James Onen, better known as Fat Boy, becoming a father. Details about the new born baby are still scanty but Fat Boy has confirmed the child is a girl.
Fat Boy disclosed the news today morning on his personal twitter handle. Fat Boy posted a picture of himself carrying the child with the caption, "She was born on Thursday."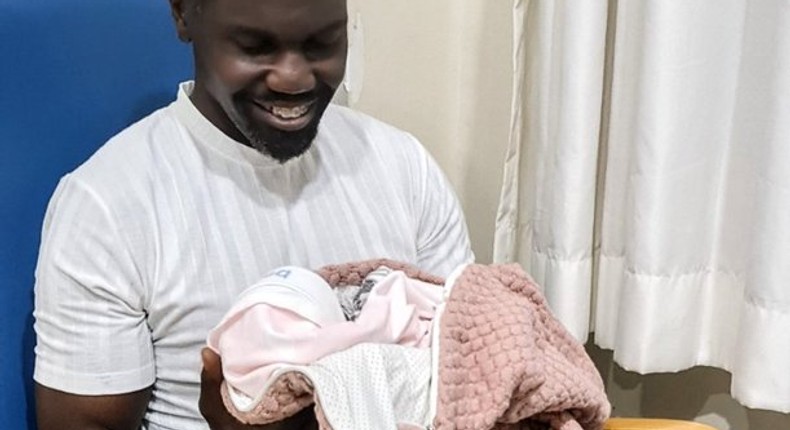 Fellow celebrities have since been gushing about Fat Boy's new milestone, congratulating him and wishing him the best.
Celebrities that have since congratulated him include, Crystal Newman, Maurice Kirya and twitter famous doctor, Paul Kasenene.
"Beautiful blessings @jamesonen," tweeted Crystal Newman.
"congratulations!" she added.
"Congratulations my brother," Dr. Paul Kasenene tweeted.
Given Dr Kasenene's popularity for his nutritional advice, Fat Boy asked him what his new born child should be eating.
Fat Boy's post has since accumulated close to a thousand likes by press time.
Despite the congratulations streaming in from all corners, fans are also shocked that Fat Boy chose to walk down this path given his vocal campaigns that tend to target women and marriage.
Some of his Twitter followers had a laugh about it in the comments.
"The girl child has had the last laugh. Not only did they lure you, they also birthed you another member through your hard work," tweeted a one Jonathan Ochom.
Fat Boy is surely going to have lots of sleepless nights as he balances out life at his new online radio hustle and the new task that is fatherhood.