Comedian Yokana Mbuuse, popularly known by his stage name, Kapere once performed a skit with Rema Namakula and there is a funny scene in which the former keeps checking the latter out.
The skit was structured to mimic a classroom setup and Kapere keeps turning to look at Namakula who is seated behind him until the teacher notices and comes to whip him.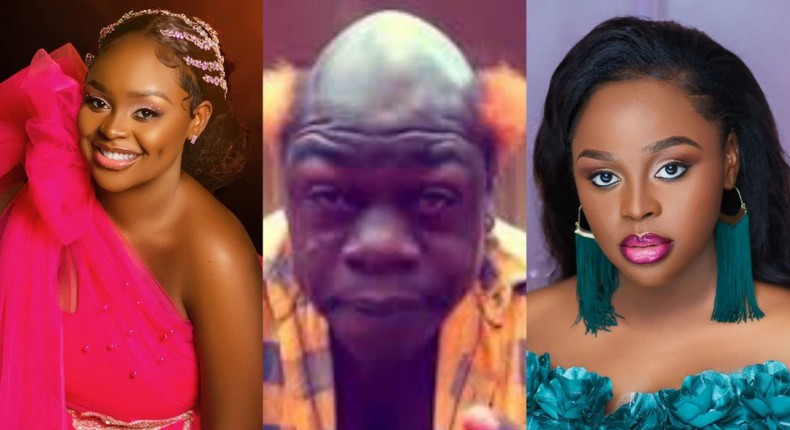 The characters have asymmetrical facial expressions, with Kapere smiling while the songstress is wearing a serious face.
Born in 1969, Kaperere, who suffered a hernia at a young age that led him to drop out of school, started out doing menial jobs on construction sites.
During that period, he met someone who helped him call for support to get treatment through newspapers and he was connected to Mukisa Foundation, which footed hospital bills and also offered him $100 as startup capital to buy materials to make keyholders. He made keyholders while also serving as the Foundation's gatekeeper.
Then one day while walking to town, he found a comedian shooting a commercial and since there were many people around, he went there and offered to participate. A driver who saw him perform encouraged him to meet Allan Mujuni, alias Amooti Omubalanguzi, and that's how he ended up as a comedian in Amarula Family.
Born in 1991, the diva launched her music career as a backup singer, and she was lucky to work with some established acts like Halima Namakula and Bebe Cool.
In 2013, the Sili Muyembe singer unceremoniously left Gagamel Crew, which is owned by Cool, for a solo career.
In 2019, Cool said his issues with Rema started when she got a manager from Gagamel and he (Cool) rejected their idea of holding a concert. They didn't like it.
The year she split from Cool's band she dropped her first hit single Oli Wange, and three years later she was nominated as Uganda's representative in Coke Studio Africa, a prestigious African musical event. While there, she shared the stage with globally recognised musicians like Trey Songz and 2Face Idibia.
Before leaving Gagamel, Rema had become an item with fellow singer Eddy Kenzo and in 2014 she gave birth to their daughter Aamal Musuuza.
Kenzo, who owns Big Talent Entertainment, has said he played a role in Rema's success. It is also believed that it's partly why Kenzo and Bebe Cool don't see eye to eye.
On 14 November 2019, Namakula introduced her new fiancé, Dr. Hamza Ssebunya, following a split with Kenzo.
Meanwhile, Rema has released a number of well-received hits, including Oli Wange, Fire Tonight, Banyabo, Loco, Akaffe Che, Lean on Me, Deep in Love, Atuuse and Kukaliba.